Website Builder Software
We've come a very long way from the days of unreliable visual web page editors and barebones web development in Notepad. Mobirise website builder software, a promising free website builder, wants to empower people from all walks of life and give them the power to create a beautiful website without any previous knowledge of coding.
It works offline on Mac and Windows, which means that you can work on your site even without Internet connection and enjoy smooth performance that you are used to from other native applications. Everything is controlled with a visual, drag-and-drop interface and the large selection of pre-made web page elements will save you from committing any unfortunate design crimes.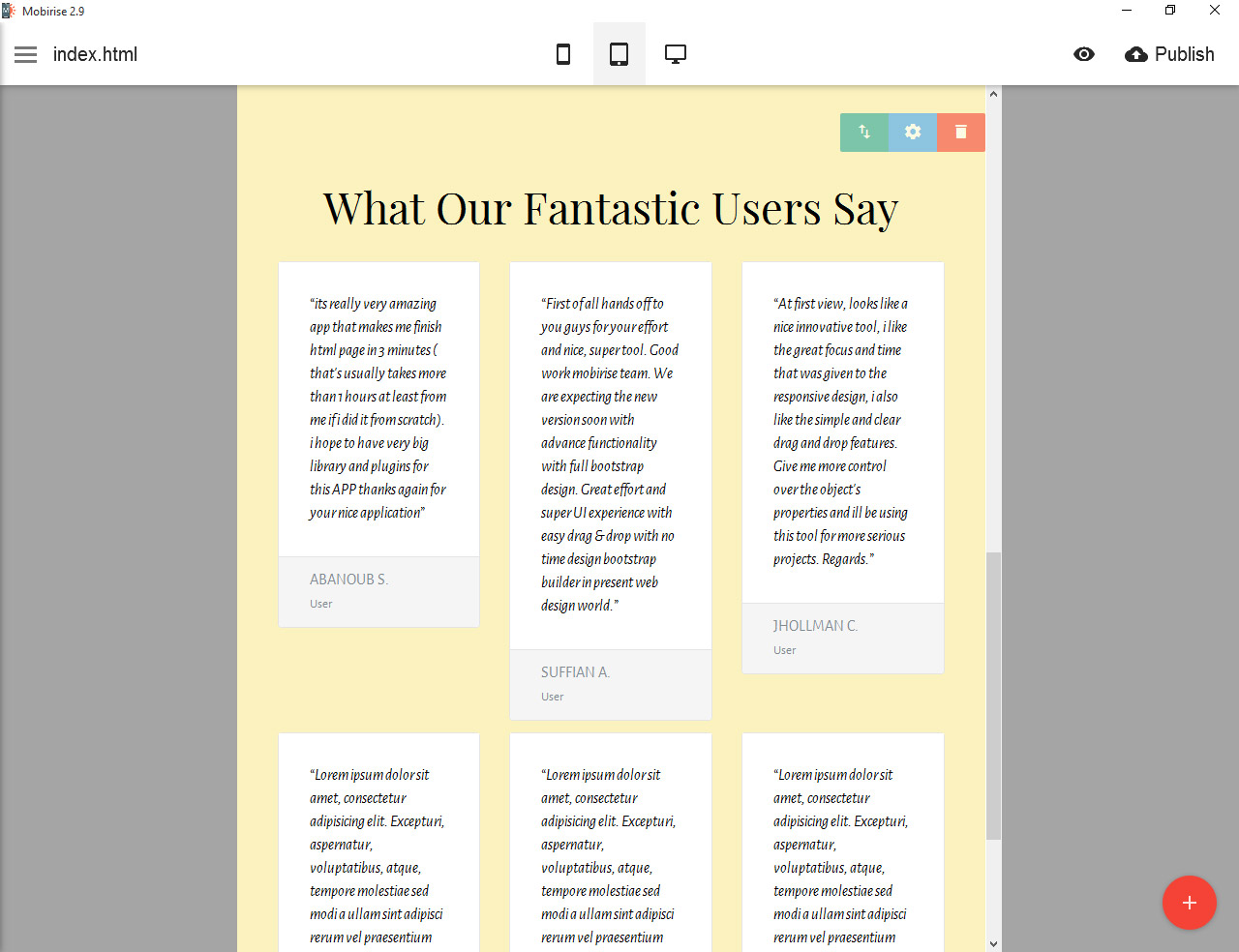 Why Should I Use a Website Builder?
The importance of solid online presence rises with each passing year. Researchers expect that more than half of the world's population will be connected to the Internet by the end of 2016. Business owners, organizations, and individuals have to adapt and secure their own place on the web.
However, this is easier said than done. Professional web design can cost huge sums of money and not everyone has the time or ability to learn web development. Not to mention that homebrew solutions rarely perform up to modern standards.
That's exactly where free best website builders, such as Mobirise web design software, comes to the rescue. It gives small business owners and other industry professionals the ability to create great looking, modern website in just a few hours and with no coding. What's more, websites created with Mobirise can be used even for commercial purposes.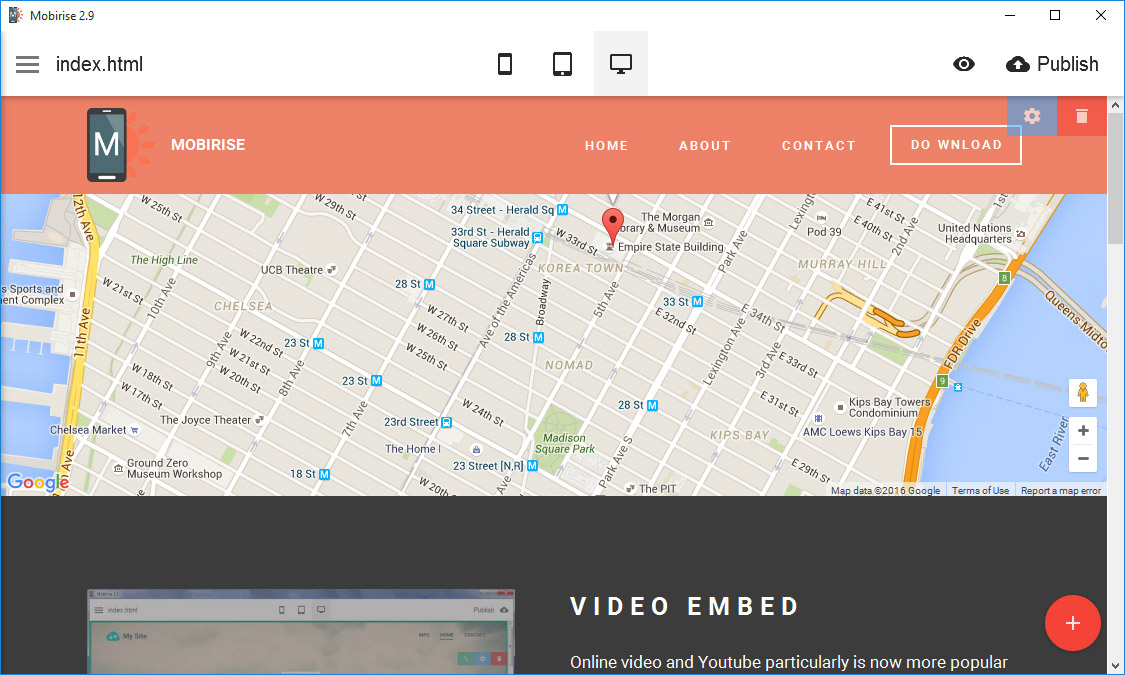 How it works
To start using Mobirise, all you need to do is download the right version for your operating system and follow the installation directions.
The installed application opens up with a preconfigured page, which gives you a good foundation that you can build upon. Editing and adding your own content could hardly be any easier thanks to Lego-like approach to content creation.
There's a big orange plus sign in the lower right corner, which reveals a list of so-called blocks. These blocks include common website elements, such as headers, content areas, footers, social buttons, and all you need to do is click on one of them and drag it to the desired spot. Mobirise will automatically do all the hard work for you. You can just edit the content itself and adjust various parameters. You will instantly feel right at home if you have experience with any modern text editor.
Mobirise web page software achieves a great balance between high customizability and adherence to sane design principles. You would have to try very hard to create an ugly or unusable website, but you never really feel limited in any way. In fact, we have found ourselves using Mobirise for quickly laying down ideas and collaboratively tweaking minute design elements of our website. The process was incredibly fun and 100% effortless even for non-technical users.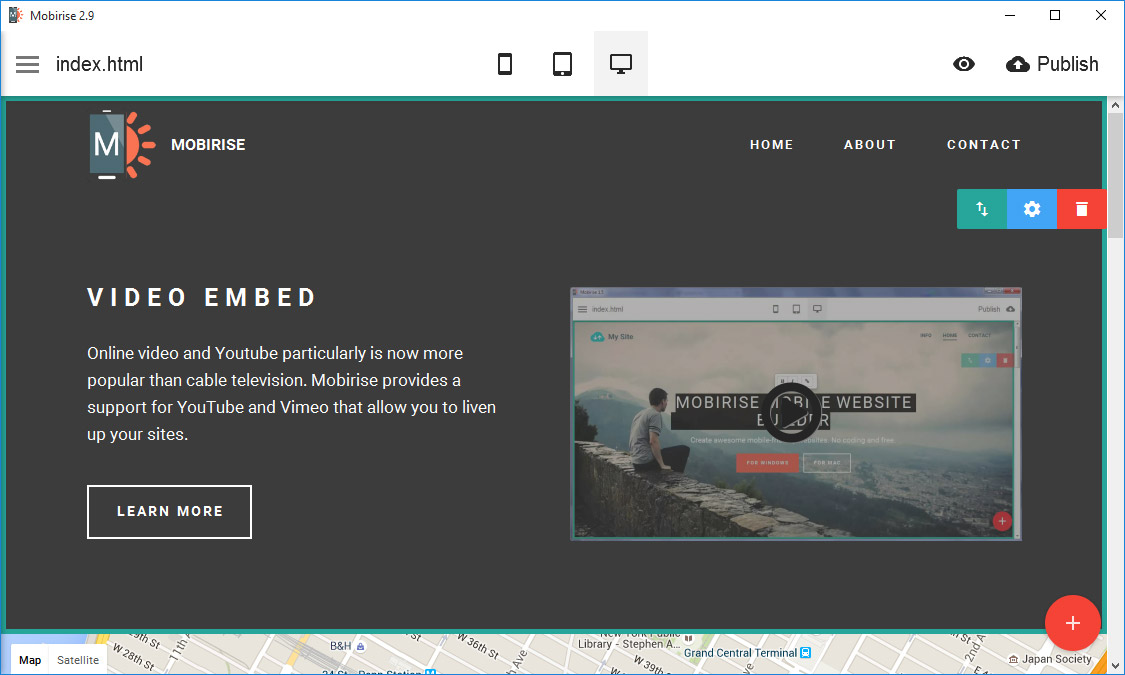 Features
We would like to go over some of the most exciting features of Mobirise website builder software to give you a better idea of what you can look forward to when you use it to build your new website.
Mobile Ready
It's no secret that mobile matters a lot. There's now more search entries coming from mobile devices than from desktop computers. Big search engines, like Google or Bing, are a prioritizing website that are optimized for mobile devices, and visitors are much more likely to convert if the site is displaying correctly on their device. Mobirise passes all mobile tests with flying colors and offers easy smartphone and tablet preview. It takes literally just one click to see how your website's going to look like on mobile devices.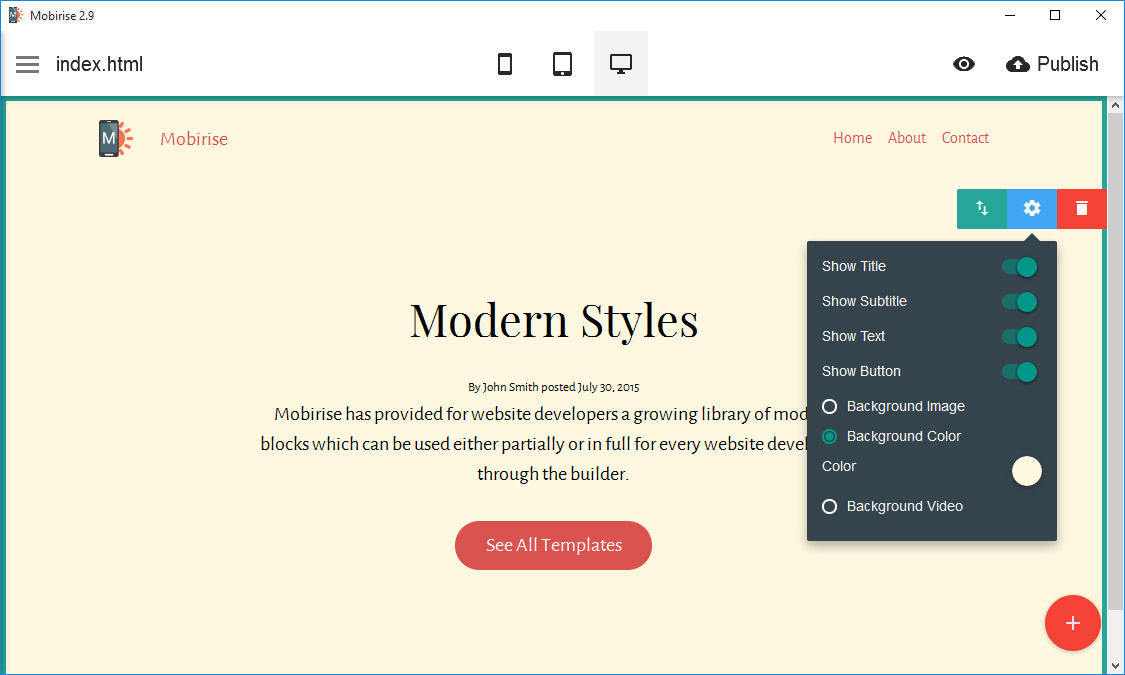 Built on Bootstrap
You may not personally care about the technology behind world's fastest front-end framework, Bootstrap, but search engines definitely do. Mobirise leverages the high performance and amazing compatibility of Bootstrap 3 and 4 to help you rank higher and attract more customers. All that's required from you is to select a Bootstrap 4 theme from the builder and start creating something awesome.
Social Media Integration
Humans are social animals. We like to share things that we find interesting with our friends and family members, and we care about opinions and recommendations of others. That's why Mobirise integrates extensive social sharing options and helps you connect your site with Twitter, Facebook, and other social media sites. By maintaining flowing communication between you and your visitors, you are sure to develop lasting, loyal relationships.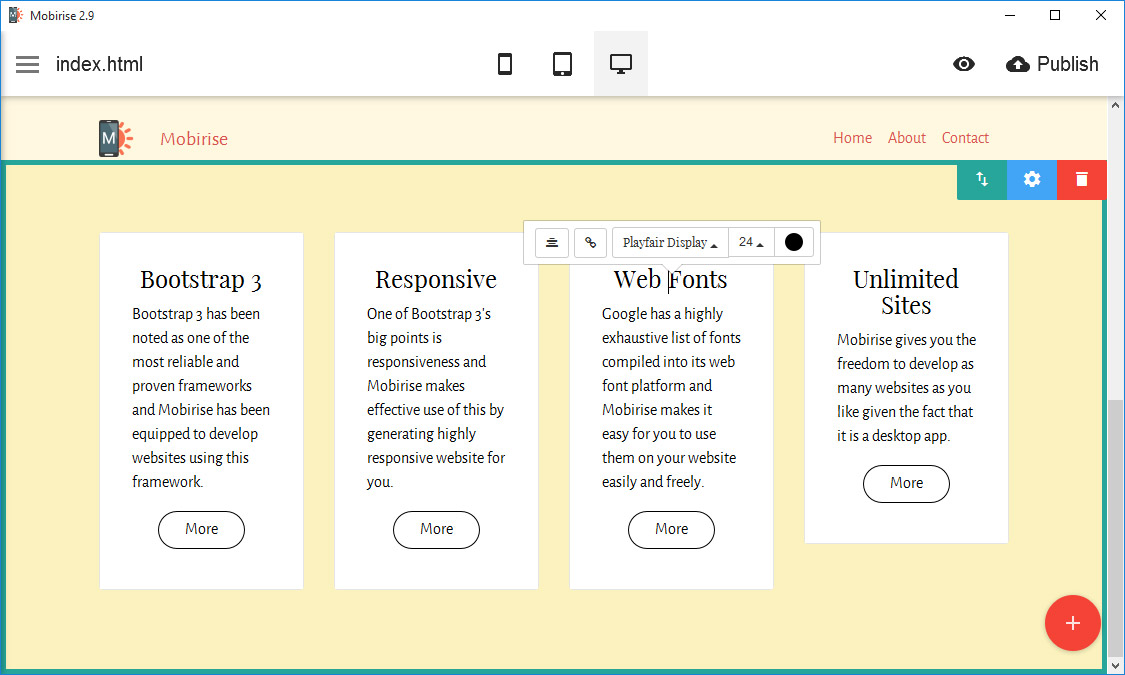 Extensive Hosting Options
We really like that Mobirise takes care of absolutely everything – even web hosting. Where alternative solutions leave you to fend for yourself, Mobirise has you covered with enterprise-grade hosting solutions from Amazon or Google. You can also save the site to your hard disk or host it on your own server. It's completely up to you to decide what works best.
Reliable Support
Mobirise understands that things don't always go exactly according to a plan. Luckily for you, their excellent customer support has you covered. You can ask for help with just about anything and be certain to receive a prompt answer.
Verdict
From our very first moment with Mobirise, it was clear to us that this is how the future of web development for non-technical people looks like. The clear user interface makes the entire process of web creation a real pleasure, and there're enough interesting features on the horizon to make us want to come back for more. Simply put, if you want a great looking website without making your wallet cry, try Mobirise.